Physiotherapy in Southwest Edmonton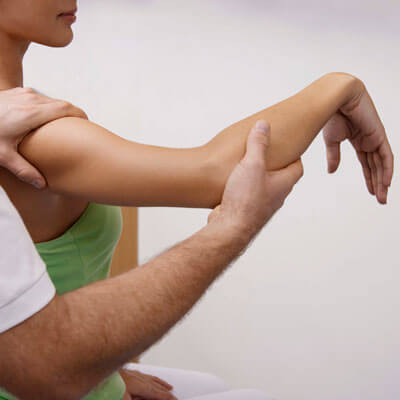 The team at Century Park Pain and Health Clinic offers multi-faceted care to help you regain your health. Physiotherapy is available in-house to treat dysfunction, injury and disease in the muscular, nervous or skeletal systems.
With a variety of treatment approaches available, our physiotherapist may prescribe a combination of these options in your program of care. They may include
Shockwave Therapy
Exercise therapy
Manual therapy
Therapeutic ultrasound
Electrical muscle stimulation
Low-level laser therapy
The Difference Between Physiotherapy and Chiropractic
Many people aren't sure what chiropractic does and what physiotherapy is for. While there is certainly some overlap between the two, there are also marked differences. Both can address injury, dysfunction and disease in the neuro-musculoskeletal system. Chiropractic does so with manual therapy techniques, while physiotherapy uses modalities and exercise therapy.
Physiotherapists tend to focus on rehabilitating injuries more than chiropractors. You may find the greatest benefit by having both chiropractic and physiotherapy. Patients who have experienced trauma such as a motor vehicle accident might start with chiropractic to relieve their acute pain, then introduce physiotherapy, later on, to help them strengthen weakened areas and regain their full function.
Frequently Asked Questions
Physiotherapy is a versatile treatment option that can effectively address a wide range of conditions and injuries, including musculoskeletal issues, sports injuries, post-surgery rehabilitation, neurological disorders, and chronic pain management. Physiotherapy aims to promote healing and enhance physical functioning through targeted therapies and exercises.
Your first physiotherapy appointment will involve a comprehensive assessment conducted by an experienced physiotherapist. This assessment will include a thorough review of your medical history and a detailed physical examination. Based on this evaluation, the physiotherapist will create a personalized treatment plan specifically tailored to address your unique needs and goals.
Physiotherapy session lengths can vary depending on individual requirements, typically ranging from 20 minutes to an hour. The number of sessions you'll need will depend on the nature of your condition and treatment objectives, which will be discussed and planned in collaboration with your physiotherapist.
In many regions, you can directly schedule an appointment with a physiotherapist without a doctor's referral. However, it's important to note that certain insurance plans or healthcare systems may have specific requirements for coverage, so it's advisable to check with your provider to understand any potential limitations or requirements.
When selecting a physiotherapist, prioritize professionals who are licensed or registered with the appropriate regulatory body in your area. This ensures that they have met the necessary educational and practice standards to provide safe and effective care. You can have peace of mind knowing that you're receiving treatment from a qualified expert in the field.
Getting Started With Physiotherapy
Before you meet with our physiotherapist, you'll fill out some paperwork. Then you'll have a full consultation and examination. From this process, our physiotherapist can determine which course of treatment is best for you. You'll discuss the expected outcomes, any side effects and all costs involved, then begin treatment.
BOOK NOW »

Physiotherapy Ermineskin, Southwest Edmonton AB | (780) 628-7219