Meet Gugan Dakshnamurthy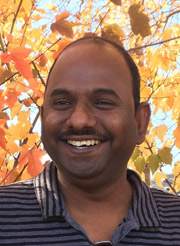 Physiotherapist
Gugan received his Bachelor of Physiotherapy degree in The Tamilnadu Dr. M.G.R. Medical University, India. After completing the course, he has worked in various clinics and hospitals with more than 9 years of experience in musculoskeletal disorders and cardiac rehabilitation. Clinically, Gugan has a special interest in treating the neck, shoulder, and knee. Gugan's treatment approach is a combination of manual therapy, electrotherapy, therapeutic exercises and therapeutic dry needling tailored to patients' needs and requirements. He will treat children with a musculoskeletal conditions, but not neurological condition. Gugan is keen on upgrading any changes and trends in the field of rehabilitation through certification courses.
Gugan can speak English, Tamil and Kannada (South Indian languages).
Gugan welcomes WCB, MVA, private patients and new patients.
In his free time, Gugan likes to play with his children, garden and listen to music.
Call our Southwest Edmonton office today to find out how we can help you!
PHYSIOTHERAPY »

.

Physiotherapist Gugan Dakshnamurthy | (780) 628-7219